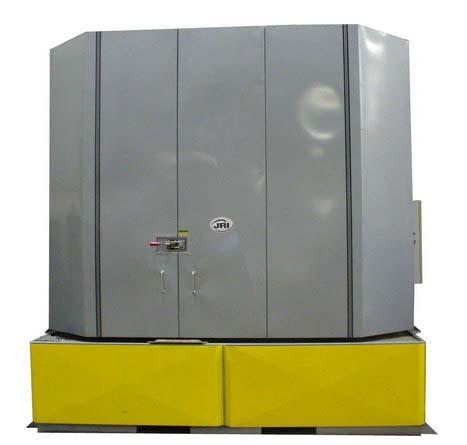 Heavy duty cleaning machines are used for cleaning large machine parts. With 12 heavy duty models to choose from you are sure to find a machine that meets your industrial needs.
Features of JRI Heavy Duty Machine Cleaning
The following features of JRI parts washers make them the industry's best:
These parts washers use the combination of detergent, water, pressure, and heat to clean internal machine parts.
These parts washers can perform multi-stage cleaning in the same cabinet.
The control panels are wired to NFPA/UL73 standards.
Turntables are designed to handle weights of up to 50,000lbs.
Gear and sprocket driven turntables eliminate the requirement for belts, tires, and chains, and other friction systems that may stretch during cleaning.
Direct drive gear driven design ensures consistent rotation required for parts cleaning.
The parts washers are available with optional features.
Industries Using Heavy Duty Equipment Cleaning Machines
JRI Heavy Duty Parts Washers are used in various industries. These include:
Heavy Equipment Remanufacturing
Mining
Oil, and Gas
Railways
All the components of these heavy duty cleaning machines are manufactured from durable materials. These equipment cleaning machines are maintenance free, and can be used in many tough applications. If you have any queries about our products or services please feel free to contact us. If you are considering placing an order don't hesitate to Request a Quote.