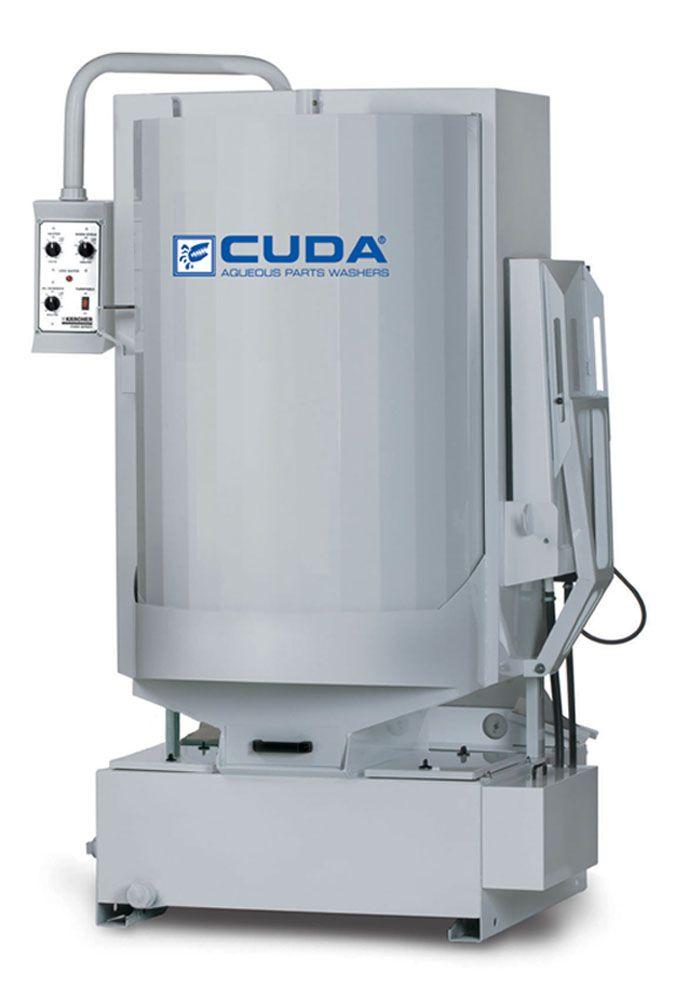 CUDA 2840 Series Front Load Parts Washers are easy-to-use front load washers with automatic features. These parts washers are distinguishable due to the following features:
A turntable diameter of 28" and load capacity of 1000 lbs.
The working height of the parts washer is 40 inches.
A vibration–free 3 HP vertical seal-less pump operates at 45 PSI. The sump capacity of the pump is 50 gallons.
Oil skimmer skims free oil, and helps keep the washing solution clean.
Built-in wheels add to the washer's portability and makes it easier to move it for maintenance and relocation
Retractable spray arm ensures that every small part is cleaned meticulously.
Debris screen prevents debris and small parts from entering the sump during a wash cycle.
The CUDA 2840 is equipped with a 6kW heater.
The front load parts washer operates in the temperature range of 150º to 170ºF.
Ideal for larger auto dealers and repair shops.
Higher volume transmissions and diesel repair shops.
Smaller loader tractor implement dealers
Benefits of Using CUDA 2840 Series Front Load Parts Washers
The following benefits of CUDA 2840 series front load parts washers make them popular:

Suitable for Mid- Sized Parts: The front load parts washers have a load capacity of 1000 lbs., which make them ideal for cleaning mid-sized components and engine parts. It is particularly suited for mid-sized automotive repair centers and car dealerships.
Safe and Solvent-free Solution: CUDA 2840 front load parts washers use a stream of hot water and scientifically designed chemical-free solution to clean engine parts.
Automated Features Help Save Time and Money: This fully automated front load washer helps save time and money. The optimized design allows mechanics to concentrate on other productive tasks, while machine parts are in the washing process. The Cuda 2840 front load parts washer can support numerous mechanics, which helps to save labor, and time.
Optimized Design: These front load parts washers have optimized designs, which take up very little space on the shop floor.