CUDA Automatic Parts Washers Models We Offer at HPI Processes
Having spent over 30 years in the industry, we have supplied various companies and facilities with parts washers based on their needs. We make sure that our customers are satisfied with the products we offer, which assure unbeatable efficiency and durability at all times. The two most popular models of CUDA automatic parts washers we sell are:
CUDA Top Load Parts Washers: As the name states the parts are loaded from the top of the machine. Our range of front load parts washers are designed to clean hard or delicate parts. Some popular models that we offer under this category include:
2412 Top-Load Automatic Aqueous Parts Washer
2518 Top-Load Automatic Aqueous Parts Washer
CUDA Front Load Parts Washers: Our range of front load industrial parts washers are reliable, safe, energy-efficient and more durable than several other industrial parts washing machines available in the market. They are perfect for cleaning the different sized components that are used for, medical equipment, automotive parts, valves, gaskets, flexible couplings etc. Following are the most popular models of CUDA front load parts washer units available for ready shipping at our inventory.
2530 Front-Load Automatic Aqueous Parts Washer
2840 Front-Load Automatic Aqueous Parts Washer
2848 Front-Load Automatic Aqueous Parts Washer
3648 Front-Load Automatic Aqueous Parts Washer
4860 Front-Load Automatic Aqueous Parts Washer
7248 Front-Load Automatic Aqueous Parts Washer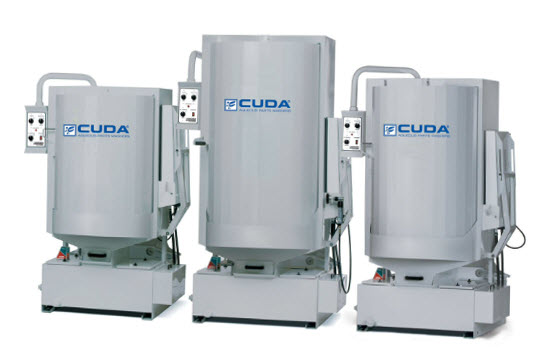 Common Features of CUDA Automatic Parts Washer We Offer at HPI Processes
CUDA automatic parts washer are highly sought-after in the marketplace due to their several beneficial features as follows:
Our automatic parts washers feature simple and user-friendly control panel equipped with low-water indicator light, oil skimmer, heater & wash cycle timers and turntable ON/OFF switch.
They come with a pneumatic power brush that aids in cleaning parts efficaciously.
CUDA cleaning systems feature automatic low-water shutoff and this ensures a safe working of the system.
The units allow easy-access to the entire wash area owing to their recessed entry.
CUDA top load part washer unit and top load systems come equipped with a sump that is spacious enough to be filled with any type of CUDA parts washer detergent.
Both front load and top load parts washers are designed with a removable debris screen and this ensures blockage-free spray-nozzle operation.
CUDA automatic parts washers are equipped with door safety switch.
They are known for their space saving design.
Our range of CUDA parts washers are also available with several optional features such as contaminant rings, filtration and sump sweep, a 60-mesh debris screen tray insert, and small or large parts baskets.

HPI PROCESSES, INC. is your local distributor of these amazing CUDA Parts Washers.
CALL US TODAY FOR A FREE DEMO !
1(215)799-0450 or Toll-Free 1(888)733-2832
Benefits of Choosing CUDA Cleaning Systems
Using industrial parts washers is a great way to remove dirt, rust, and other contaminants from the parts you're looking to clean. There are numerous benefits of automatic parts washers that have made them an efficient, cost-saving solution across several industries. The following reasons substantiate their widespread usage across these different sectors.
CUDA parts washers are automated machines that offer a more efficient and thorough way of cleaning parts than traditional methods of cleaning.
A single unit of parts washers can typically support three to four technicians or mechanics who would otherwise spend hours washing parts by hand exposed to harmful solvents. Such manual cleaning also can create potential health hazards and disposal problems related with solvent use. All these can be minimized substantially when using our CUDA cleaning systems.
Our parts washers also help in reducing the costs on chemicals needed for cleaning, and this brings a substantial saving on parts cleaning. Since they use less water and detergent, they save money on waste water treatment costs.
Part washing is one of the most difficult tasks if it is done manually. The work is physically demanding, time consuming, and sometimes dangerous due to the chemicals that need to be used to clean the parts properly. By investing on CUDA top load parts washer units and front load systems, you can clean parts several times faster, which in turn augments you overall production rates.
Applications of CUDA Cleaning Systems
Both CUDA top load parts washer and front load parts washer units are used in various industries such as amusement parks, aerospace, military, automotive, medical, railroads and many more. They are effective in cleaning the following parts;
Construction Equipment
Fasteners, and screws
Large metallic bodies
Automotive assemblies
Rail bearings
Diesel engine blocks
Gearboxes
When it comes to washing parts, time is money, and our automatic parts washers will save you both. Being a leading CUDA parts washer distributor, we at HPI are proud of our high quality, outstanding customer service, and fast delivery. If you are looking for a part washer that fits your requirements in terms of cleaning performance, energy efficiency, and durability, then you have found the right place. Besides selling automatic parts washers, we also meet your requirements for CUDA spray wash cabinet, CUDA parts washer replacement parts, and CUDA parts washer detergents. If you would like to know more about the typical features and specifications of the models listed, please refer the CUDA parts washer manual provided. Alternately, you can get in touch with our team at HPI Pro to get more information on these machines.