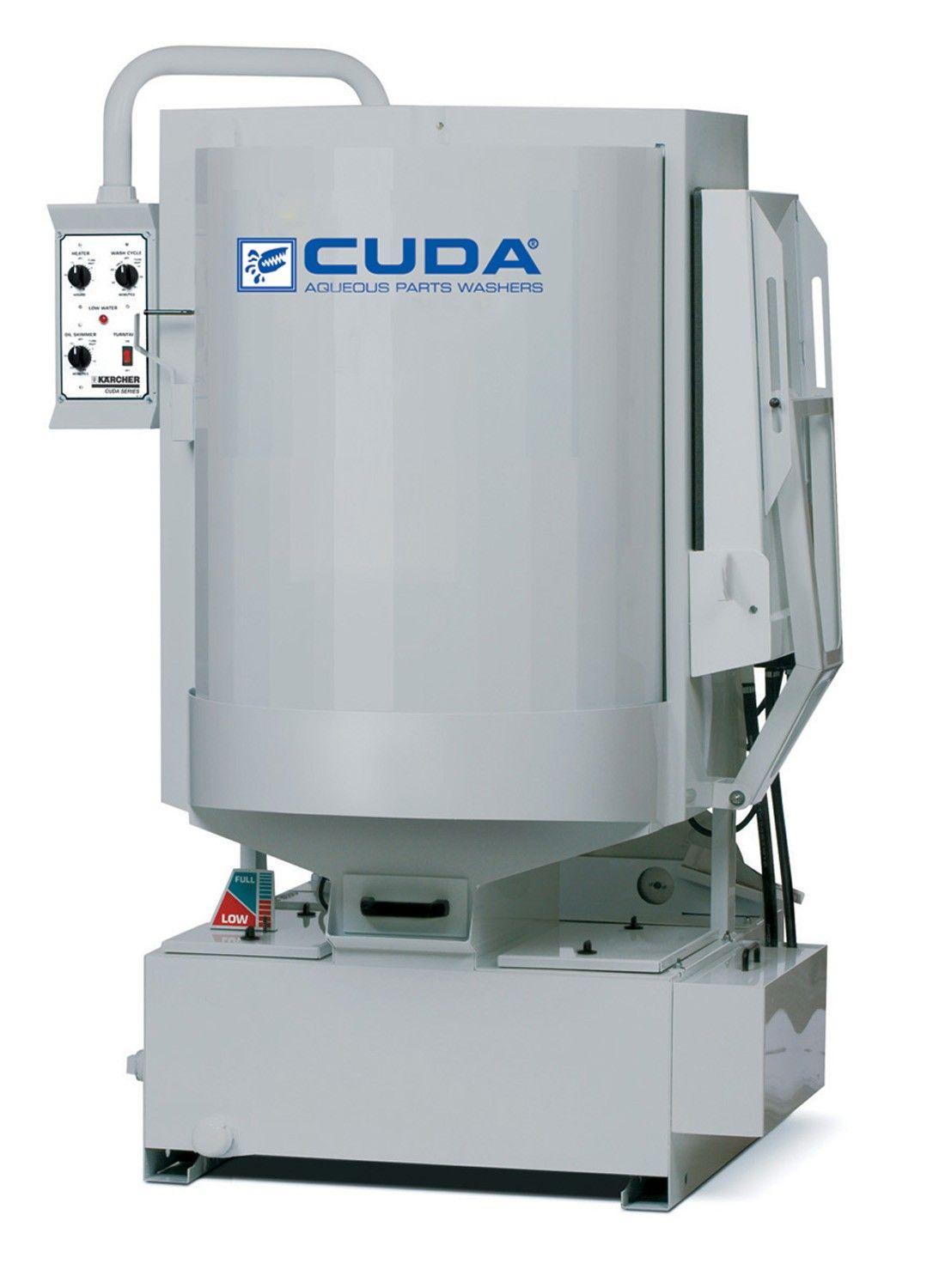 CUDA 2530 Series Front Load Parts Washers are the smallest and most popular front-load automatic part washers available for purchase. The CUDA 2530 front load automatic parts washers feature the following:
A 30" wash cabinet, a 25" rotating turntable, and a 3-HP vertical seal-less pump producing 50 GPM at 45PSI.
The load capacity is 500 lbs.
Sloped tank with a fitted 1.5" drain pipe for disposal of waste and dirty water.
A 12" oil skimmer made from stainless steel
A detachable 20-mesh debris screen that prevents heavy and loosened parts from mixing with the wash solution.
The eye control panel features an on/off switch, low-water indicator light, as well as timers to control the wash cycle, heater, and oil skimmer.
The retractable spray bar rotates automatically to clean small parts.
A convenient no-drip, roll-in door helps in easy parts loading and unloading.
The automated low-water shutoff turns the unit when water level becomes too low.
The wash cabinet is easily accessible through a recessed base. Additionally, it helps minimize lifting and stooping while loading awkward, and heavy parts.
Operating temperature is 150º – 170ºF
Ideal for auto dealers and repair facilities with less than 7 techs.
Low volume transmission and diesel repair.
Many other applications from amusement parks to ski areas.
Benefits of CUDA 2530 Series Front Load Automatic Parts Washers
These front load automatic parts washers are built for rugged washing environments, and provide the following benefits:
Helps Reduce Use of Harsh Solvents: Cuda 2530 front load automatic parts washers help reduce use of hazardous cleaning solvents. These solvent-free parts washers use pressurized hot water, as well as specially formulated industrial detergents to clean grease, grime, and dirt effectively.
Minimizes Human Labor: Cuda front load parts washers have automated features that help minimize human labor. Users only have to load dirty parts, adjust features if needed, close the door, and start the machine. These front load washers allow technicians to save their time and minimize this menial task.
Productive Capitalization of Investment: Being automatic, these front load parts washers require no regular supervision, and help technicians focus on productive work. This means the washer will pay for itself within a year.