Household Division of HPI Processes, Inc.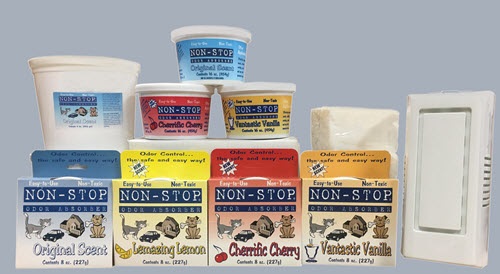 Started in 2000 to compliment HPI's existing line of industrial products, Non-Stop/Household Division of HPI Processes, Inc. manufactures a full line of non-toxic and environmentally safe household cleaners and odor absorbers. These odor absorbers have received rave reviews from consumers and commercial users alike.
Unlike old fashioned remedies that use one odor to overpower another, often making the cure worse than the condition, Non-Stop odor absorber attack stain and odor molecules, completely neutralizing them and leaving only a mild, pleasant fragrance behind.
Non-Stop odor absorbers have been highly sought after for use in commercial office buildings, warehouses, schools and universities, pet shops and veterinary practices, health clubs, hospitals, service stations and body shops, automotive and RV dealers, marinas and boat yards, movie theaters, hotels, tobacco shops, government buildings and a host of others.
In 2001, Groom and Board named Non-Stop's Multi-Enzyme Stain Remover & Odor Eliminator and Ready to Use Citrus Spray Cleaner to their list of top 25 products for the year, as determined by reader requests.
In 2003, our products were featured on QVC. And like QVC which is known for its "Quality. Value. Convenience.", you can expect the same high quality standards from Non-Stop products.
Please feel free to browse our site for more information on all of our stain and odor products, as well as, where to buy them. Also, be sure to read the testimonials to find out what other satisfied customers have had to say!