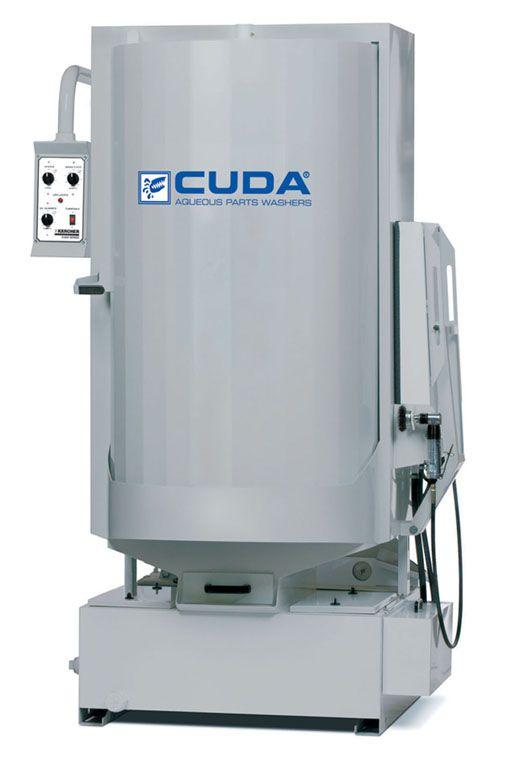 CUDA 2848 series front load parts washers are the largest front load parts washers available in single-phase. This front load parts washer blends environmental friendliness, ergonomic features, and user-friendly designs. The following features make them popular with various industrial segments.
A turntable diameter of 28" and working height of 48".
A 5 HP vertical seal-less pump works at 50 PSI, and produces 110GPM, which is double that of any other parts washers in a single phase category.
The load capacity is 1000 lbs.
Operating temperature ranges from 150 – 170 degrees.
The integrated oil skimmer features wiper blades and stainless steel discs, which collect grease and oils automatically and allows for convenient grease and oil disposal.
The front panel access debris screen helps to remove debris from the washing solution, and ensures clear nozzle operation. The debris also protects small parts from dropping into the sump and causing mechanical malfunctions.
The automated control panel allows a user to control the turntable, heater, and wash cycle operation.
The roll-in door is a space saving component and gives easy access to the wash chamber.
Meets OSHA regulations, and conforms to ANSI/UL Standards.
Ideal for OTR truck and diesel repair facilities
6 cylinder diesel engines
Implement dealers with larger 4-wheel drive tractors
Benefits of Using CUDA 2848 Series Front Load Parts Washers
CUDA 2848 Series front load parts washers are equipped with various automated features, which impart the following benefits.

User-friendly Design: The Cuda 2848 Front load parts washer allows easy loading and unloading of parts with its features such as knee-length turntables, easy to access control panels located at a reachable height, and a curved recessed entry. This user-friendly design makes it one of the most used parts washers in the industry.
Safety is a Priority: The Cuda 2848 Front load parts washer has a low water shut off feature, which enhances safety. This helps protect the heating element when the water level drops below a set value. Also, the solvent-less washing equipment ensures safety to user's health.
Money Saver: CUDA front load parts washer model 2848 allows users to save time on manual cleaning, and concentrate on more productive tasks.