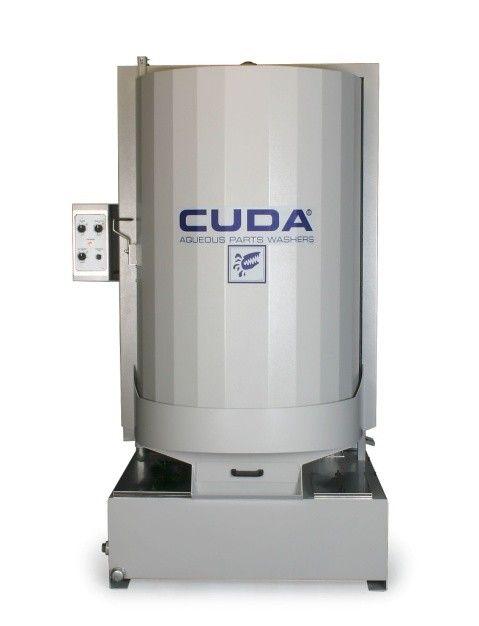 CUDA 3648 series front load parts washers are the advanced mid-range front load washers in the CUDA series. These parts washers are available in mild and stainless steel constructions. This series serves as an intermediate between the 4860 and 2848 models in terms of price and size. The front load parts washers are valued for its following features:
The front load parts washer has a load capacity of 2500 lbs., 48" working height, and 36" turntable diameter.
The 7.5 HP vertical seal-less submerged pump produces 150 GPM at 50 PSI.
The sump capacity is 113 gallons.
The control panel is simple to operate, and can be accessed easily.
The front access debris screen prevents debris from contaminating the washing solution. The screen also safeguards against small parts, which might pass the cleaning chamber accidently.
The integrated oil skimmer features wiper blades and steel discs, which allows it to remove greases and oils from the cleaning solution.
The space saver roll-in door provides easy access to the wash chamber, and requires no clearance in the front or at the top.
The operating temperature range is 150 oF – 170 degrees.
Ideal for large OTR diesel repair shops.

Large implement dealers.

Construction equipment repair and engine rebuilders.
MODEL

WORKING

HEIGHT

TURNTABLE

DIAMETER

VOLT/
Ph.

TOTAL

AMPS

HEATER

(kw)

H20-3648

48"
36"
230/3
58
18

H20-3648

48"
36"
460/3
32
18

H20-3648

48"
36"
575/3
26
18
Benefits of CUDA 3648 Series Front Load Parts Washers
The below-mentioned benefits of the 3648 series make them ideal for several parts washing applications:

Small Footprint: The space saving design makes it ideal for small spaces as well.
Advanced Alerting System: The warning light alerts the operator when the water level drops below a certain level.
Fully Automated Features: The CUDA series front and top load washers are fully automated, which permits users to concentrate on other revenue generation tasks. It helps manufacturing units amass value in terms of money and time.
User and Environment-friendly: The Cuda 3648 front load washer uses no hazardous solvents, which means users are not exposed to toxic fumes or elements.
Conformance to Industry Standards: The front load parts washers meet federal electrical guidelines. They conform to ANSI/UL standard 73 eighth edition, and OSHA regulations 1910.399.
Backed by One Year Parts Warranty: