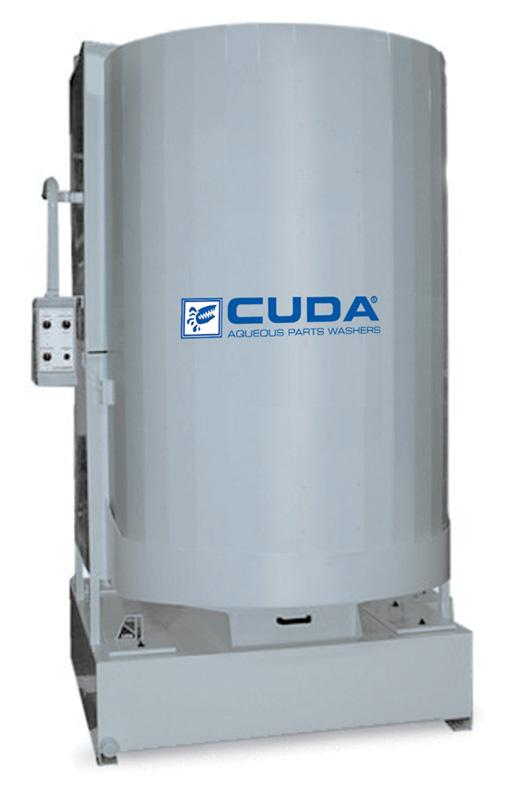 CUDA 4860 Series Front Load Parts Washers are aqueous-based industrial part washers, which can efficiently clean oversized machine components and parts. CUDA 4860 is the largest front-loading parts washer in the CUDA series, and is also available with an optional height extension, increasing the interior working height to 72". It is equipped with the following features:
A turntable diameter of 48", a working height of 60"( or 72" with height extension), and a load capacity of 5000 lbs.
A 7.5HP vertical seal-less pump with 156-gallon sump capacity produces 200 GPM at 50 PSI. The vertical seal-less pump is vibration free, and allows for easy service whenever required.
Built-in wheels aid in easy movement of the washer for service and repositioning.
The oil skimmer prevents grease and oil from contaminating the cleaning solution.
An integrated retractable spray arm helps clean small parts, and an optional 2 tier turntable allows for numerous parts to be cleaned at once.
The roll-in space saving door provides easy access to the wash chamber.
The recessed entry allows easy loading of heavy parts.
A debris screen filters contaminants, debris, and prevents small parts from clogging the cleaning chamber.
The operating temperature lies in the range of 150º to 170ºF.


Ideal for large engine rebuilders.
Large diesel OTR truck repair and dealers.
Construction Equipment repair.
Large implement dealers.
Benefits of CUDA 4860 Series Front Load Parts Washers
CUDA 4860 Series front load parts washers provide the following benefits:
Reduces Dependence on Harsh Cleaning Agents:
CUDA automatic front load washers are solvent-free solutions, and allow reduce dependence of harsh cleaning agents. These front load washers use hot water streams, and specifically formulated industrial detergents to clean debris, dust, and grime settled on machine parts.
Allows Bulk Cleaning:
These front load washers have a load capacity of 5000 lbs., which allow technicians to clean small and large parts simultaneously. The bulk cleaning facility allows technicians to save on effort and time, which means they can concentrate on other productive tasks.
Reduces Errors and Manual Labor:
These front parts washers are fully automated, which means technicians don't need to check them every time. Technicians can easily load their parts, set controls as per their requirement and wait for the task to be over. Thus, the automated design minimizes potential health risks, manual labor, and errors, which directly contributes to low operating costs.