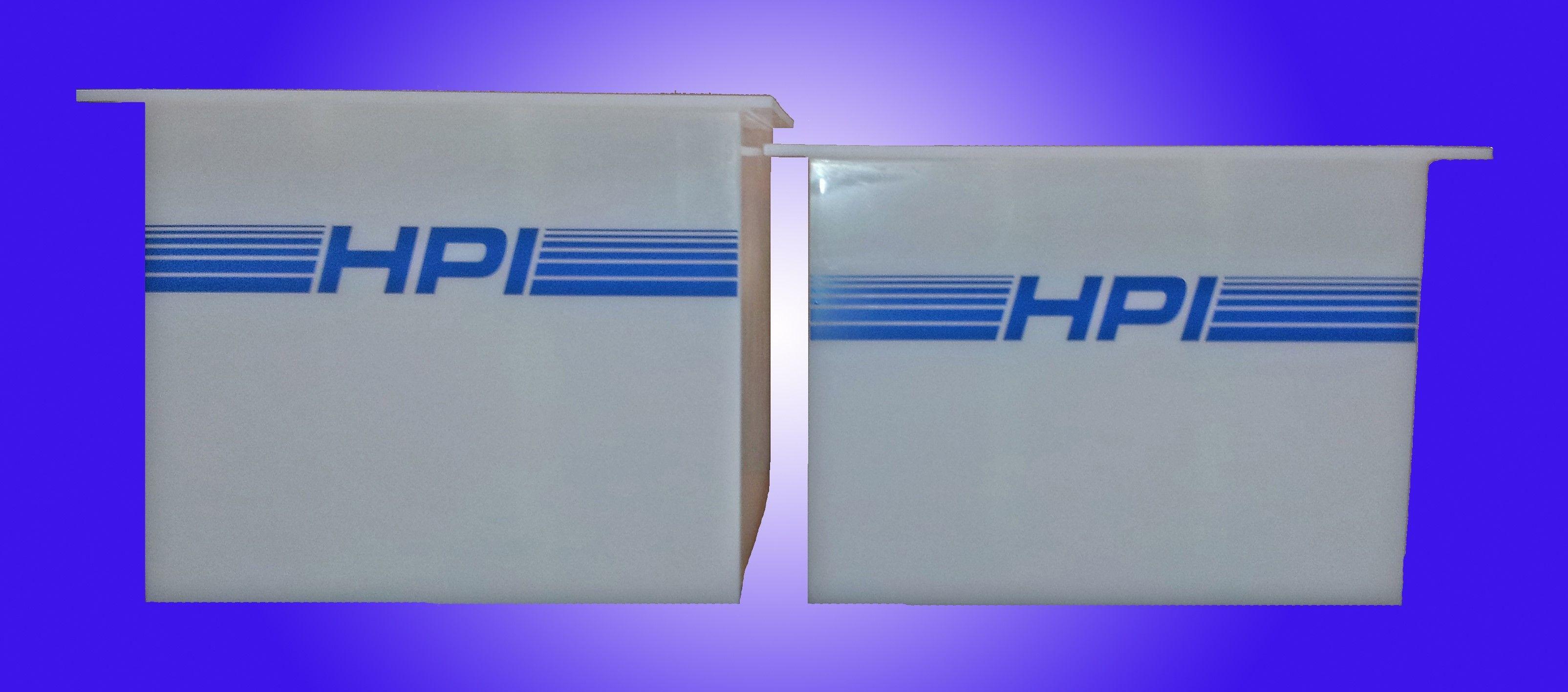 Most industrial units and processes have harsh, corrosive environments, and accordingly, they require plastic tanks to hold the specified materials. Plastic tanks are used to store materials required in industrial units. These tanks may be standalone units or integrated as part of industrial systems. HPI Processes, Inc. is a leading manufacturer of plastic polymer tanks made of various types of corrosion-resistant plastics such as natural polypropylene, HDPE, PVC, CPVC, polyethylene, and PVDF.
Our experience in building tanks enables customization of these polymer tanks to suit the exact requirements of our clients.
Types of Fabricated Plastic Tanks We Offer
As previously mentioned, we offer standard and custom tanks that can be created in a variety of plastics, shapes, dimensions. They are ideal to store various chemicals and other abrasive materials. Below are some examples.
PVC Tanks: Polyvinyl chloride or PVC is a cost-effective yet durable plastic most commonly used for water storage. It has good dielectric strength and therefore good insulation properties. It is resistant to corrosion and chemicals.
HDPE Tanks: HDPE or high-density polyethylene is highly tough and resistant plastic. It is used to store and transport fuels and other flammable liquids and gases.
Polyethylene Tanks: These tanks are UV-treated, and some types of these tanks have food-grade certification. This means that they can be used in the food & beverages sector to store water. In other sectors, they can be used to store a variety of liquids including chemicals and acids.
Polypropylene Tanks: Polypropylene grades are resistant to temperatures as high as 300 degrees Fahrenheit. This makes the tanks resistant to moisture, extreme heat, and corrosion. These tanks are durable and lightweight, and most suitable in steel plants.
Custom Options We Offer
Over the years, our skilled and efficient team has developed expertise in offering various types of polymer tanks to clients from diverse industries. This experience and expertise makes customizing easy for us. We offer them in a variety of shapes, sizes, and colors with varied capacities ranging from 10 to 20,000 gallons. As experienced custom tank builders, we offer the following customization options:
Filter Pumps
Ventilation Duct/Hoods and Fume Scrubbers
Heaters
Temperature Controller
Level Control Probe
Rectifiers and bussing
Benefits of Partnering with Us
Aside from our reliability and expertise, there are many benefits of partnering with us. Here are some of them.
Backed by decades of experience and expertise, our engineers work closely with clients to ensure that the product meets or exceeds their needs and expectations, in terms of timelines, requirements, and budget.
Our welded plastics are resistant to chemicals and corrosion, and hence can meet the most demanding specifications.
Our tanks are easy to clean and low on maintenance.
We perform triple welding on the inside and outside portions of our tanks.
The steel girthing of our tanks are encapsulated with plastics.
Our welding process yields reliable, water-tight containers that offer superior strength, durability and longevity.
As one of the well-known plastic tank manufacturers, we at HPI Processes Inc., strive to offer our clients the best in terms of products and services. If you are an OEM who needs plastic chemical tanks, we can be your reliable partners to fulfill this requirement. Let us know if you have any questions regarding our fabricated plastic tanks. Our team of experts can offer you the required technical assistance. In case you have any enquiries or want to share your requirements, you can reach us on phone or email.
"Our Quality Starts at the Drawing Board"
Call, Fax or Email your dimensions for a free quote.
Plastic Fabricated Tanks Photo Gallery