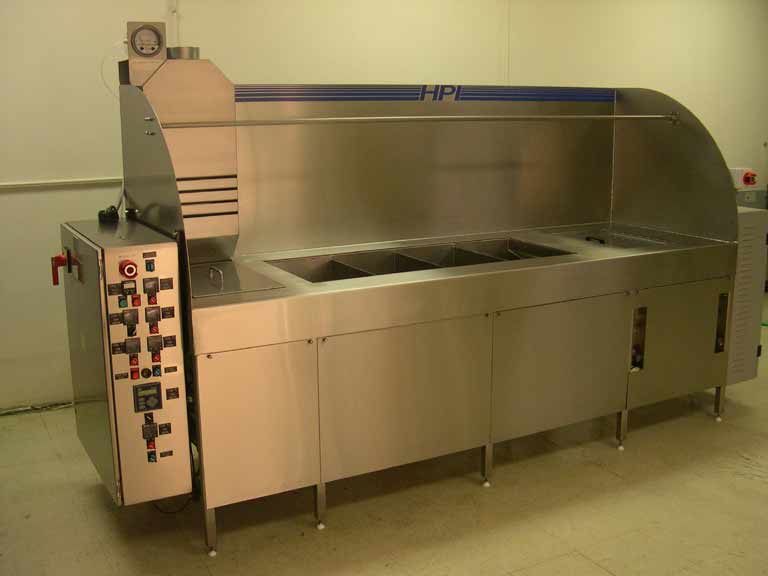 Passivation process tank systems that are provided by HPI Processes, Inc. are manufactured by using the newest innovative technology. Passivation is defined as a non-electrolytic process that typically uses nitric acid to remove free iron from the surface which will form an inert, protective oxide layer that will strengthen the metal against rust and oxidation. This process makes it the preferred method of corrosion control for many industries. Ideal for medical device and aerospace industries, our processes and equipment are manufactured to the highest industry standards. Any business that requires contaminate-free, corrosion-resistant parts and components can reap the benefits of having a high quality Passivation Process Line.
Complete process benches or manual/automated process tank systems available for your passivation applications.
High-Performance Products at HPI Processes, Inc.
We provide the following passivation equipment:
Bench-top Ultrasonic
Wet Bench
Ultrasonic Automated
Agitated Immersion Multi-Tank

Outstanding Product Features
Here are some excellent reasons why you should choose HPI:
All tanks feature 316 Grade stainless steel construction.
All rinse and cleaning tanks are integrated with Ultrasonic technology.
Conductivity activated rinse tanks feature brilliant technology. In this feature, when water gets dirty, the water automatically flows through the cascading rinse tanks. This helps in reducing the water consumption.
Forced air-drying tanks are incorporated in the bench.
Complete process benches or manual/ automated process tank systems are also available for your passivation applications.
HPI Processes, Inc.'s is recognized nation-wide as a leader in the industry. Our solutions are modeled around specific client needs. By taking process and user limitations into account, we are able to provide a solution that enhances overall efficiency.
Please feel free to contact HPI Processes, Inc. to customize your next Passivation Process Benches/ Tank Systems!