Eliminate the need to manually clean parts with an old scrub tub, pressure washer or potentially harmful solvents. Jenfab's Orca roll-in door automatic parts washer offers superior cleaning that can pay for itself in less than one year through avoided labor costs. It is ideal for heavy or light-duty cleaning and the roll-in door design makes it a good fit for small spaces. The Orca is available in three standard turntable sizes of 25, 31 or 36 inches and includes a host of standard features the competition lacks.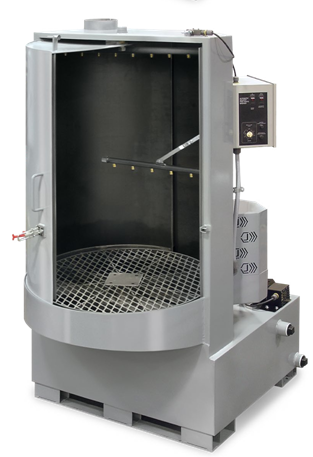 Sprocket-Driven Turntable
Jenfab's proven sprocket driven turntables eliminate chains, belts or tire drives that can stretch or slip resulting in poor cleaning performance, increased maintenance and component replacement.
Oil Skimmer
Jenfab Orca parts washer comes equipped with a stainless steel oil skimmer, ideal for extending solution life and washing parts with high oil residue.
Seven-Day Programmable Timer for Heat and Oil Skimmer
Save time and money by programming the Orca to operate only when necessary.
Auto Water Fill
Keeps water levels full for peak performance every wash.
Also Included:
Precision V-Jet Brass Nozzles
Mechanical Door Seals
Forklift Access Pockets
Chip Basket
60-Minute Wash Timer
Swing Down Spray Bar
Vertical No-Seal Pump
Low Water Shut-Off System
Overfill Drain
Dowload Orca Brochure

Jenfab Orca Roll-in door Automatic Parts Washer
| | | |
| --- | --- | --- |
| | | |
| Orca Oil Skimmer | Orca Swing Down Spray Bar | Orca Vertical Pump |
ORCA

2532

3142

3648

OVERALL DIMENSIONS

36"L x 51"W x 68"H

42"L x 56"W x 78"H
47"L x 65"W x 85"H

SHIPPING DIMENSIONS

42" x 57" x 76"

48" X62" X 86"
53" X 71" X 91"

SHIPPING WEIGHT

800 lbs.

1000 LBS
1100 LBS

WORKING HEIGHT

32"

42"
48"

TURNTABLE DIAMETER

25"

31"
36"

WEIGHT CAPACITY

1000 LBS

1000 LBS
1500 LBS

TANK CAPACITY

60-gallons

80-GALLONS
110-GALLONS

PUMP SIZE

3HP

3HP
5HP

PUMP OUTPUT

45 PSI @ 50 GPM

45 PSI @ 50 GPM
58 PSI @ 85 GPM

ELECTRIC HEAT

6 KW

12 KW 3PH

6 KW 1PH

12 KW

ELECTRICAL CONTROLS

ETL/CETL

ETL/CETL
ETL/CETL

ELECTRICAL ENCLOSURE

NEMA 1 RATED

NEMA 1 RATED
NEMA 1 RATED
Machine

Power Source

Amp Draw

ORCA 2532

ORCA-2532A

230 V 1PH

44

ORCA-2532B

208 V 1PH

50

ORCA-2532C

208 V 3PH

29.25

ORCA-2532D

230 V 3PH

27.7

ORCA-2532E

460 V 3 PH

15.4

ORCA-2532F

575 V 3 PH

10.4

ORCA 3142

ORCA-3142A

230 V 1PH

44

ORCA-3142B

208 V 1PH

50

ORCA-3142C

208 V 3PH

45.9

ORCA-3142D

230 V 3PH

42.7

ORCA-3142E

460 V 3 PH

22.9

ORCA-3142F

575 V 3 PH

16.4

ORCA 3648

ORCA-3648A

230 V 1PH

89.8

ORCA-3648B

208 V 1PH

93.4

ORCA-3648C

208 V 3PH

54

ORCA-3648D

230 V 3PH

48.3

ORCA-3648E

460 V 3 PH

24.2

ORCA-3648F

575 V 3 PH

19.6
Options for All Orca Roll in Door Washers:
PARTS BASKETS
PARTS TREE
STEAM EXHAUST
BAG FILTER SYSTEM