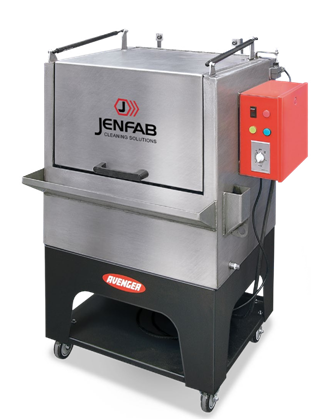 Are you tired of washing all your parts by hand? Then step up to the next level with Jenfab's Avenger top-load automatic parts washer.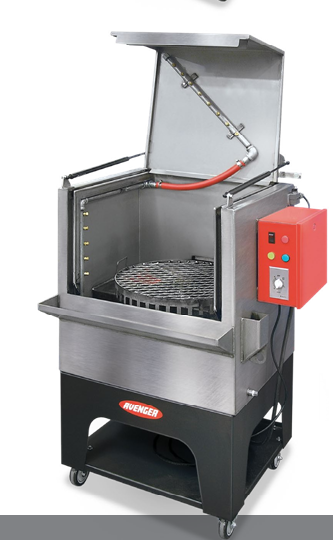 The Avenger is ideal for small shops, automotive service facilities and work cell cleaning operations that want to save time and labor without spending a lot to do it. Small and compact, the Avenger is perfect for tight spaces and requires virtually no training to operate. The lift-up lid and washbasin are constructed of durable stainless steel, so rusting will never be an issue. Jenfab's unique gear and sprocket driven turntable also means you'll never have to worry about replacing worn-out belts or drive chains. In addition, the Jenfab Avenger comes with a built-in fluid strainer that helps extend the life of your cleaning solution, so your money doesn't go down the drain.
For small parts like fasteners that have difficult soils to remove, there is a soaking reservoir below the turntable for use prior to washing. An optional spray brush with a dedicated pump can also be added. Users will likewise appreciate the no-mess drip tray, which keeps your shop floor safe and dry while removing parts after the wash cycle.
FEATURES:
Stainless Steel Cabinet - Never worry about rusting.
Sprocket Driven Turntable - No need to change worn out drive belts or chains.
Built in "Y" Fluid Strainer - Extends the life of your cleaning solution. Soaking Reservoir - For parts with difficult soils or debris.
Low Water Shutoff - Protects the pump from burn up.
15-Minute Wash Timer - For flexibility and efficiency in washing.
Removable Water Tray (not shown) - To catch excess water when changing cleaning solution.
Jenfab Avenger - Top load Automatic Parts Washer
| | | |
| --- | --- | --- |
| | | |
| Avenger Built in Y | Avenger Soaking Reservoir | Avenger Sprocket Driven Turntable |
Specifications
OPERATION TYPE

Manual, soak and automatic

Power Options

120V Single Phase 60Hz

230V Single Phase 60Hz

Unit Dimensions

Depth

38"

Height

55"

Height w/ Lid open

79"

Working Height

12"

Width

35"

Turntable Load Height

30"

Turntable Diameter

21"

Pump

1hp horizontal

Pump Output

20 gpm@30 psi

Heat Source

1.5 kw@120V/3 kw@230V

Soak Basket Dimensions

Depth

7"

Height

5.5"

Width

16"

Volume Capacity

Reservoir Gallons

20

Weight Capacity

Maximum Weight Cap

100 lbs

Filled Weight

475 lbs plus 20 gallon 166 lbs = 641lbs

Operating Temperature

Maximum Temperature

135 Degrees F. for 120V

160 Degrees F. for 230V

Time to Heat to

2-2.5 hours for 120V

Operation Temperature

1-1.25 hours for 230V