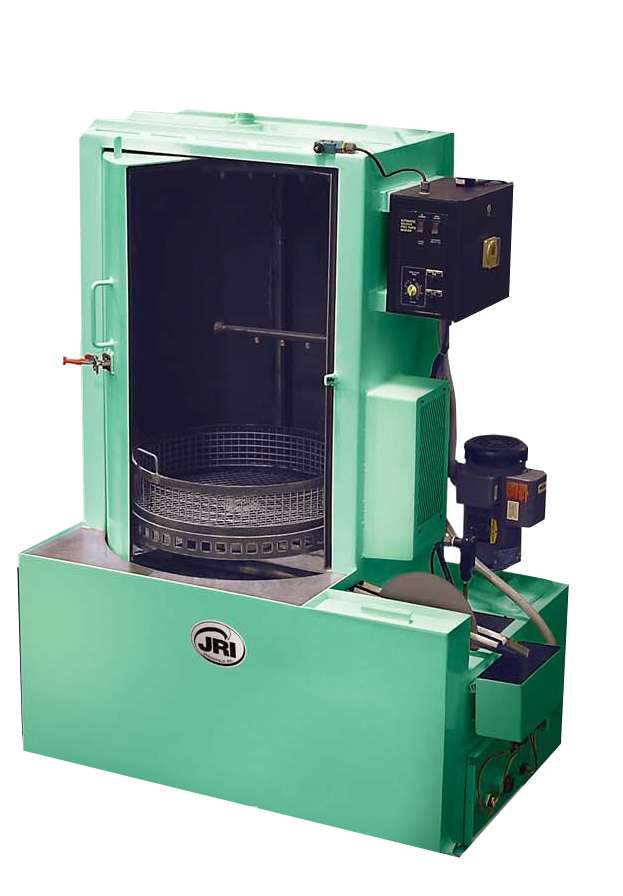 HPI Processes, Inc. provides JRI F-Series aqueous parts washers, which are completely automatic to help save time, effort, and money.
Beneficial Features of F-Series Aqueous Parts Washers
F-series aqueous parts washers are equipped with the following features, which make them ideal for harsh work environments.
Integrated debris tray has a lift out design, which helps separate debris, and contaminants from getting mixed in the tank, nozzle, and pump.
Swing down spray bar helps reduce the distance from the nozzle for better access of small parts for a better cleaning.
Sprocket driven turntables help eliminate tire drives, chains, and belts, which often stretch and slip, thereby affecting the cleaning performance, reducing component life, and increasing maintenance costs.
The controls are wired in accordance with NFPA/UL73 and provide overload protection.
These parts washers are provided with the following features:

Mechanical door seals
Precision V-set nozzles
Low water shut-off system
Overfill drain
Gear Driven Turntable with Fused Jam Protection
Wheel oil skimmer
The F-Series models are available in four turntable diameter ranges – 25", 31", 36", and 42" and corresponding working heights of 32", 42", 48", and 60". Weight capacities are 1000 and 1500 lbs. These models are fitted with pumps having 3HP, 5 HP, and 7.5 HP vertical power.
The F-series is available with additional features upon request.
Compact design for convenience

If you have any queries about our products or services please feel free to contact us. If you are considering placing an order don't hesitate to Request a Quote.