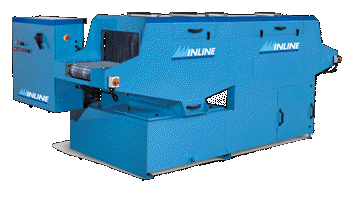 Industry-Grade Inline Two-Stage Parts Washing Systems at Cost Effective Prices
Industrial parts washers are important for any manufacturing facility. HPI Processes, Inc. provides Inline Pass Through Two Stage Cleaning systems, which allow users to wash and dry, or wash and rinse their machine parts.
Features and Benefits of Two-Stage Parts Washing Systems
The following features and benefits of Inline Pass Through Two Stage Cleaning systems suggest why they are popular with our industrial customers.
Wash and rinse systems are made from stainless steel and fitted with 3 hp rinse pumps, and 5 hp wash pumps.
Wash and dry systems are made from mild steel and can be fitted with10 hp, 15 hp, and 20 hp blowers.
Systems are designed to provide efficient parts cleaning of heavy duty industrial parts. These systems remove tough greases, soils, detergent residues, and water spots from surfaces.
Available in lengths up to 20' and widths of 7'.
These Inline Two Stage Parts washers are available with additional accessories and options, designed for seamless integration in your production facility. If you have any queries about this product, our services, or any other products, please feel free to contact us. If you are considering placing an order don't hesitate to Request a Quote.

Wash Rinse Systems are available only in stainless steel and are designed for cleaning parts in such a way that the parts will be free of water spots, detergent residue, and soils. Wash Dry Systems are ideal for those customers whose parts need to be cleaned and dried. These systems are available in mild steel or stainless steel.