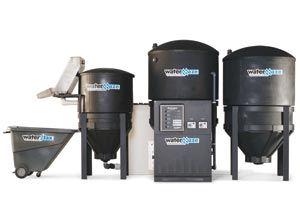 Modular BioSystems for Total Flexibility
All-Natural Recycle or Discharge Systems
For Industrial and Transportation Applications
Easy to maintain with Automatic Purge Feature
CLB Advanced Bioremediation System ideal for golf and turf applications.
The Water Maze BioSystem of CLB Series employs the latest bio-technology for treating and recycling a broad range of commercial and industrial water, including golf and turf applications where there's a high organic content in the water stream.
The CLB's unique design features modular components so the system is customized to match each customer's application requirements as well to keep equipment cost and performance to only what is truly needed. Moreover, the systems are automated for ease of maintenance.
Unlike filtration systems, which create a sometimes hazardous sludge, the BioSystem naturally converts organic contaminants such as oil, grease, etc. that are common to wash water into harmless water and carbon dioxide.