Precision-designed tanks are one of the important requirements across many industries. These tanks are used for holding various types of liquids at certain temperatures. These tanks are either made of plastic or metal for effective results. Polypropylene and stainless steel are two popular choices of materials for such tanks. At HPI Pro, we specialize in the design and fabrication of custom storage tanks in square and round shapes that are exactly built to your specifications. We combine our expertise in plastic and metal welding with proven fabrication processes to produce storage tanks of the highest quality. Our storage tanks are well-known for their performance in challenging work environments.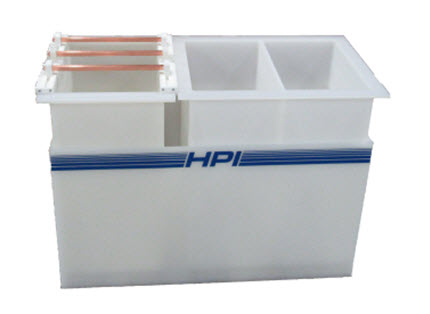 Customization Capabilities of HPI Pro
At HPI Pro, we understand that there is no standard size that will work for everyone. This is why our experts always strive to build tanks that customers want rather than selling them tanks that we already have. They work closely with customers to understand their requirements before building a tank that meets their requirements and offers them high ROI. You can use the custom tank builder form to enter your tank details and our team will contact you shortly for a quick discussion.
The tank builder form comprises the following areas which suggest our customization capabilities.
Tank Dimensions: In this section, you have to enter the following values:

Length ID (Inches): Enter any value between 0 and 600.
Width ID(Inches): Enter any value between 0 and 600.
Height ID (Inches): Enter any value between 0 and 600.

Storage Capacity: This is measured in terms of gallons, where 1 gallon = 3.785 liters. In this section, enter any value between 0 and 600.
Area of Usage: We can fabricate tanks for indoor and outdoor usage. So, in this section, you need to specify if the tank will be used indoors or outdoors. Our experts generally recommend UV-protected tanks for outdoor use.
Solutions to be Stored: In this section, you have to enter the following details:

Type of fluid to be stored
Temperature of storage
Specific gravity of the contents
Heights to which the fluid will be filled

Tank Supports: Here you will be asked to enter your choice of support for the tank.

Choose if you need a self-supporting tank or a tank liner.
Choose Yes or No to indicate if you require welded interior baffles to support your tank. The interior baffles help reducing bowing by tying the two walls together.
Choose Yes or No to indicate your choice of size restrictions outside the tank. We incorporate encapsulated steel bands outside the tank. The encapsulated steel bands add inches to the width and length of the tank.

Tank Top: We can build tanks with a closed or open top. You choose between these options in the form. If you choose an open top, would you want a top flange? Enter your choice in Yes or No. You can get in touch with our team for further discussion in this area.
Lid: We can provide tanks with or without a lid. Enter Yes or No in the field.
Feet: The tank can be provided with or without feet. Enter Yes or No in the field.
Fittings: We can provide the tank with different fittings such as half couplers, gusseted flange connections, and full couplers. All these fittings are available in 1/2" - 1-1/2", 2" - 3", and 4" lengths.
Bottom: The round bottom tank can be provided with a cone bottom or flat bottom.
Materials: We can provide tanks fabricated using different plastic and stainless steel.

Polypropylene is the common choice of material for tanks. It is a durable and lightweight material that offers excellent chemical corrosion resistance, thereby making it ideal for applications where metal finishing is involved. The tanks made of this material can hold liquids at high temperatures up to 200 °F.
Stainless steel is a corrosion-resistant material and is often used for fabricating process tanks due to its flexibility and ease of use. It can withstand high temperatures.
In addition to these, we also provide corrosion and chemical-resistant tanks for any application fabricated using materials such as natural or white polypropylene, PVC, CPVC, HDPE, HTTP, or PVDF. All these materials can be used to make trays and containment tanks. The stands of the tanks are generally made of polypropylene and stainless steel.

Options: We can provide tanks with the following options:

Liquid level monitors
Liquid level controls
PH Control
Chemical metering
Rectifier bussing
Air or mechanical agitation
Air spargers
Pumps and piping
PLC controls
Over flow weir sections
Mechanical covers
Removable covers
Integrated exhaust/ventilation hoods
High Temp Poly Pro (HTPP)
Heating elements
Temperature control
Cooling coils
Filter pumps
Feel free to get in touch with our team today to discuss your requirements for any type of tanks and trays.