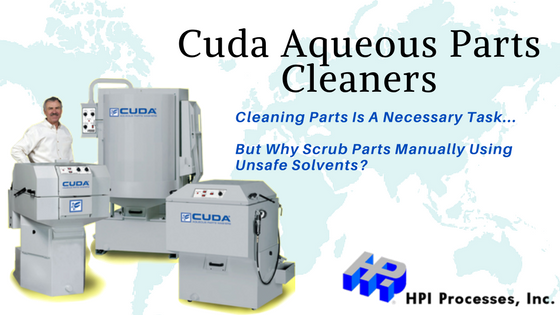 Irrespective of the industry, factory owners have to deal with dirty equipment on a regular basis. As equipment is used over time, it catches dirt, dust, grime, and grease. These contaminants eventually affect the performance of the equipment and create an unpleasant working atmosphere. Because manual parts cleaning can be tedious and time consuming it is often put off as long as possible. The best way to ensure that your equipment is adequately maintained is to make washing easy with an industrial parts washer by CUDA.
What are Industrial Parts Washers?
As the name suggests, industrial parts washers are automated machines designed to clean components. They come in a variety of designs and sizes, which will allow factory owners to clean even the most intricate and unwieldy parts. Simply place the components within the machine, add the cleaning agent, close the lid, and start the machine. A user does not need to stand around and monitor the cleaning process because the industrial parts washer does it all without any assistance.
CUDA Parts Washers
There are a variety of industrial parts cleaning machines available on the market but few compare to the quality and efficiency of CUDA parts washers. HPI Processes, Inc. provides different models of CUDA parts washers to industrial customers for long lasting, reliable service.
CUDA's automatic parts washers are designed as a safer alternative to rented, manual solvent sinks. Their design consists of a heated aqueous system, which utilizes corrosion-free detergents. This design helps remove old and stubborn contaminants quickly and efficiently. CUDA washers are available in the following models:
The Benefits of CUDA Parts Washers
These industrial parts washers provide a variety of benefits to the user.
The machines do not require any solvents to perform the cleaning process.
The machine design consists of multiple nozzles allowing for fast and thorough parts cleaning.
Using these machines eliminates the need to expose workers to hazardous cleaning chemicals.
Parts washers help reduce labor costs and save time.
Efficient cleaning can reduce the number of component repairs and replacements.
CUDA industrial parts washers are known for their speed, cleaning efficiency, and convenience to users. Click here if you would like to know about these solution driven products.