No one likes to visit a home that has a foul odor. A home can maintain a particular odor for various reasons. These can be cooking, dampness, trash, mold, smoke, paint, or cleaning chemicals. The basics of eliminating odor are identifying and removing its source, and introducing new scents. A great way to accomplish this is to use non-stop odor absorbers. These have caught the attention of industrial and commercial consumers alike.
Remove A Distinctive Smell with Non-Stop Odor Absorber
The Non-Stop odor absorber is a convenient, non-toxic odor control product that absorbs stenches, and provides clean, healthy, and non-polluted air. When kept in a room, this product immediately attacks the offensive odor molecules, and completely neutralizes them.
How to Use the Non-Stop Odor Absorber
This product can be used to eradicate mild as well as strong odors. For mild odors, you first need to remove the lid and foil cover of the absorber container. Then place it as close to the odor source as possible. For strong odors, Remove and place the contents of the container on its lid. This will enable maximum air circulation around the odor absorber, and get rid of even the strongest of smells.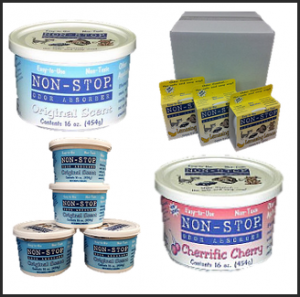 Non-Stop Odor Absorber in Different Packaging and Sizes
The Non-Stop odor absorbers are offered in different packaging and sizes to meet the needs of diverse application requirements. For domestic use, you can opt for the mountable dispenser that can be installed on walls. After use, these dispensers can be refilled with 16 oz. refill blocks available in four alluring scents. If you have a large odor problem, you can choose the four pound Non-Stop odor absorber.
Various Applications of Non-Stop Odor Absorber
It can be ideally used in a variety of applications, including:
Hospitals
Warehouses
Health clubs
Movie theaters
Service stations
Automotive dealers
Hotels and restaurants
Government buildings
Marinas and boat yards
Schools and universities
Commercial office buildings
Pet shops and veterinary practices
Non-Stop odor absorber is used by people across America for eliminating a variety of smells. Whatever your application may be, if you also have an odor problem, this product is the solution for you.