Industries such as mining, transit, construction, agriculture, etc. utilize heavy duty vehicles to perform various tasks. Vehicles such as fleet trucks, bulldozers, harvesters, etc. are exposed to diverse contaminants in applications. Hence, these vehicles need to be regularly cleaned and maintained.
As you can imagine, cleaning these vehicles manually is a time consuming task. A specialized washing system is required to provide fast, and efficient cleaning. OEMs provide custom wash bay systems as a solution to this requirement.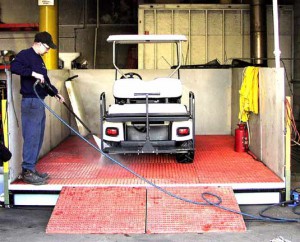 A Look at Wash Bay Systems and their Benefits
Wash bays are industrial systems, specifically designed to provide quick and comprehensive cleaning for heavy duty vehicles. These systems can be designed as integrated, or mobile structures. The wash bay systems can provide a variety of benefits to heavy duty vehicle cleaning processes.
Time Saving: The biggest advantage of the system is that it provides comprehensive cleaning as manual washing, but within a shorter period of time. The reason is, the cleaning processes are performed by large computer controlled machines. They clean the vehicles thoroughly at great speeds, completing the work within 4 to 8 hours.
Increased Customer Control: Integrated wash bay systems can be installed near the warehouse where the trucks or buses are parked. This gives the customer complete control over the cleaning schedules, inspections, and even the accessories within the machine.
Cost-effective: Most heavy duty industries partner with car washing companies to get their vehicles cleaned. However, this can become quite expensive by the end of the year. By installing the wash bay systems, the investment for cleaning the vehicles will reduce dramatically.
Equipment Options: OEMs can design custom wash bay systems with various components and accessories to meet specific cleaning and regulatory requirements. A few examples of these can include:

Wash Pads: The pads can be designed as extremely wide and strong to take the weight of the vehicle.
Catch Basins: Catch basins with fine mesh screens can be installed below the wash pads to collect twigs, grass, mud, and grease sediments.
Recycling Machine: A recycling machine can be used to collect the wastewater and make it fit for reuse.
Custom wash bay systems are ideal solutions to meet the needs of industrial vehicle cleaning. Not only are they great investments, they also provide inimitable performance.