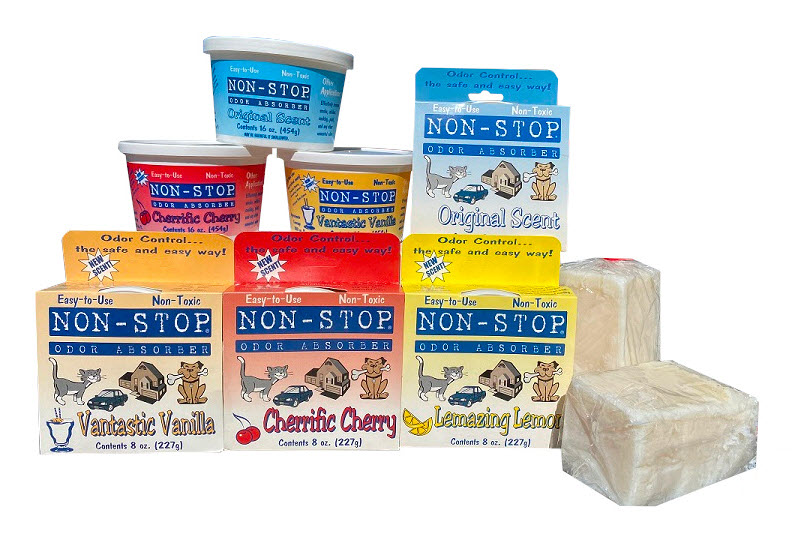 FEATURES
Controls and eliminates all airborne odors
Easy-to-use and Non-toxic
For consumer and commercial applications
8oz. size covers 150 sq ft and lasts up to 4 weeks
16oz. size covers 300 sq ft and lasts up to 2 months
Can be recapped and stored for future use
NON-STOP Odor Absorber is an easy-to-use, non-toxic odor control product that provides clean, healthy, non-polluted air for homes, businesses, offices, and cars. NON-STOP Odor Absorber is perfect for odors caused by pets, smoke, cooking, paint, diaper pails, mildew, etc., etc., etc. One container of NON-STOP Odor Absorber in each room will attack offensive odor molecules, surrounding them and completely neutralizing them. Unlike old-fashioned masking remedies it does not just use one odor to over-power another.
For mild odors, simply remove the lid and foil. Place the container as close to the odor source as possible. For serious odors, remove the contents from the container and place it on the lid to allow maximum air circulation around the product. When the product has dissipated to become a dark flat disc, it is time to replace it.
WALL DISPENSER AND 16 oz. REFILL BLOCKS

Non-Stop's Odor Absorber block and dispenser system consists of a mountable dispenser that can be fastened to rough surfaces like walls or wood with screws, or to smooth surfaces like glass or ceramic tile using double-sided tape (screws and tape included). It can then be refilled over and over again with 16 oz. refill blocks available in any of our four scent-sational scents. It is ideal for laundry rooms, bathrooms, kitchens and basements.

INDUSTRIAL SIZE 4 lb. PAIL

If you have a large odor problem, we have a large odor solution. Non-Stop's economy size odor absorber is perfect for kennels, print shops, warehouses, large offices, and even delivery trucks. This four pound size can cover up to 1200 sq ft and last for months.