InLine conveyor parts washing systems are designed by experts in the industry to fit comfortably with any manufacturing process. Each machine is mobile and adaptable to accommodate changing manufacturing processes and cleaning needs.
If your cleaning needs are fairly straightforward, a standard parts washer will likely be a perfect fit. If your needs are more complex, or if you have special applications, call the HPI Processes, Inc. sales office.
At InLine, we don't expect anyone to adapt their manufacturing process to any specific machine. We'll help engineer an InLine machine to fit your specific needs.
STANDARD CONVEYOR PARTS WASHING SYSTEMS FEATURES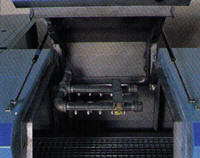 High-Volume Precision Cleaning and Rinsing
The standard wash and rinse stages use high-capacity pumps and rapid-response heating elements to thoroughly flood parts with high volumes of hot wash and rinse solution. The precisely engineered multi-direction spray patterns provide 360° part coverage, aggressively scrubbing and rinsing parts clean in seconds.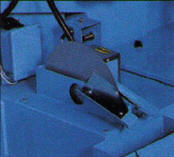 Oil Skimmer and Container
The integrated high-capacity oil skimmer effectively removes petroleum products from the cleaning solution. The removable collection container provides a means for convenient waste collection and disposal.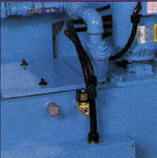 Auto-Fill and Low-Water Safety Systems
The auto-fill and low-water safety systems automatically monitor and maintain wash solution levels in the sump chamber. The auto-fill system ensures that the wash solution remains at optimum levels. The low-water safety system disconnects power to the heating elements to prevent overheating or element burnout if the wash solution drops below safe levels.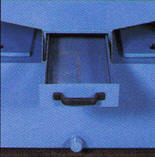 Continuous Large-Particle Filtration
The patented front-access debris screen continuously filters debris particles from the cleaning solution to ensure blockage-free spray nozzle operation. The screen also provides a safeguard against small parts that might accidentally be blasted through from the wash chamber.
High-Efficiency Drying
The standard dry stage uses a high-velocity centrifugal blower and two or four strategically placed air knives to generate 600 to 1200 CFM of clean air for rapid drying. And easy access butterfly valves allow precise air flow adjustment.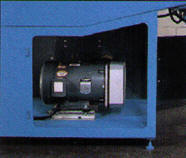 Enclosed Blower Motor
The blower motor is fully enclosed behind large, easy-access panels (removed in photo) beneath the outfeed deck. Enclosing the motor cuts down on noise, reduces intake filter contamination, and creates a smaller, cleaner machine footprint.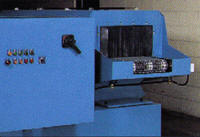 Convenient Ergonomic Design
The infeed and outfeed decks are a comfortable 38 or 41 inches off the floor to minimize stooping and lifting. The maximum standard tunnel capacity is 24 inches wide by 20 inches high; machines with tunnel capacities of up to 48 inches wide by 48 inches high are also available. Conveyor belts are available in galvanized steel, stainless steel, or a variety of plastic materials. Conveyor speed is adjustable from 0 to 20 feet per minute.
OPTIONS & ACCESSORIES
All InLine machines are available with the following options and accessories:

Stainless Steel is much more durable than mild steel. All InLine machines with rinse and dry stages use stainless steel for wetted parts. For increased strength, longer life, and greater compatibility with harsh cleaning and treatment processes, you can upgrade any machine entirely to stainless steel.
The power steam vent removes water vapor from the machine processing chambers, and prevents the build up of excess humidity in the surrounding work area. Using a power steam vent significantly improves drying efficiency.
The recirculating air option continuously recycles the air in the drying chamber, which keeps the drying air warmer and cleaner. Used in conjunction with the power steam vent, the recirculating air option results in more efficient drying and less frequent air filter replacement.
The filtration system continuously filters solid particles from the wash solution, which results in more efficient cleaning performance. You can use the Sump Sweep™ system to periodically remove waste build up from the bottom of the sump.
The digital temperature and conveyor speed controllers allow you to precisely set the wash and rinse solution temperatures, and the speed of the conveyor. The controllers include LED readouts on the control panel, which allow you to visually monitor the temperature and speed at a glance.
InLine's adjustable guide rail system positions your parts to achieve the exact cleaning results you need. Each guide rail system is custom-designed for your application, and is fully adjustable to accomodate all of your parts.
The adjustable feeder chute gravity-feeds parts onto the conveyor for hands-free machine operation. InLine offers custom-designed feeder chutes to enable integration into any manufacturing process.